Regular exercises have huge benefits to people of all ages.  The Yoga exercises funded by Get Berkshire Active initially was meant to take place in Hexham community centre while observing the rules of social distancing.  But due to another lockdown, Utulivu group had no option but to do the sessions virtually.  That had lots of advantages one being that the participants engaged in the exercise sessions from the comfort of their homes.  And participants joined beyond the targeted geographical locations.  More sessions were delivered compared to initially planned due to hall hire costs not incurred.  Overall, the design of the project was meant to enable participants to be active during Covid-19 lockdown.   This was to empower women to STAY IN GOOD HEALTH, AS HEALTH IS THE NEW WEALTH HENCE THEIR WELLBEING.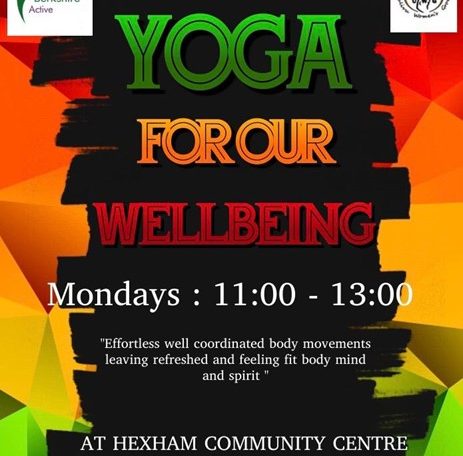 START WELL AND STRONG
The participants worked on their base and comfort speed after the instructor gave a briefing at the beginning of each session and reminded participants to start strong by observing the following:
Allow time to warm up
Wear right clothes
Check the house temperature
Exercise before a meal
Start slowly and then progress gradually
PERSONAL GOALS WERE SET TO BE ACHIEVED AT THE END
Relieve tension and stress of Covid-19
Weight management, burn the calories
Stay healthy
Connect with others
Increase physical strength of the body
Remove toxic wastes
Improve blood flow
Reduce the body pains
EMPOWERED AND INSPIRED WITH THE HEALTH NUGGETS
The participants were left empowered and inspired after each session.  They were motivated to do regular exercises in their own homes on their own initiatives after being reminded that "THEY WERE THE EXPERTS/DOCTORS OF THEIR OWN BODIES/HEALTHY.  This came out powerfully as participants were reminded always and they owned this.
THE POPULAR EXERCISE
Several exercises were delivered for every part of the body.  Some were more popular than others. One of the popular ones was "Celebrating Success".  It was a time of exercising the lungs through laughter.  There is a popular saying laughter is medicine.  The essence of celebrating success was to increase lung capacity and recharge oxygen supply.  Participants looked forward to this.  Exercises of all kinds were delivered to benefit all parts of the body: the head, shoulders, the back, the legs, hands, nose.  It was for the total BODY FEEL GOOD AND HEALTHY.
HEALTH BENEFITS AS NARRATED BY THE PARTICIPANTS
On a weekly basis the sessions were delivered and when asked the participants narrated endless benefits of regular exercises as follows:
I have learnt to be positive as the exercises encourages me to be positive in all that I do.
The exercise has been a motivation for me because we do it as a group. I don't find it motivating doing it alone but seeing others do it on-line with me is very encouraging.
After the exercise, I normally feel so tired and end up having a very good sleep. As soon as get into bed, I fall asleep so easily.
I normally have body aches, but after the exercise, I find my body more flexible, the stiffness is alleviated.
I sweat during the exercise and it removes toxic wastes
The exercise that we engage in weekly leaves me happier. The exercise impacts on my moods positively.
The exercise does a lot of things to me because I am active through the day, addressing the boredom and my day does not drag.
The impact to the exercise is that I feel it from the head to the toes
I never knew the positive impact of yoga exercise until I participated. It was more than expected.
There are lots of health nuggets from these Yoga sessions thus importance of having fresh air, regular exercises, eating healthily, having flowers in the house.
The Yoga sessions led me to attend other sessions like gardening.
The exercise has contributed to my mental health especially I feel more settled and positive.
My stress and anxiety pockets are emptied daily
The Yoga sessions have been funny and enjoyable
The exercises have given me a good stretch
The instructor is encouraging and provided opportunity for participants to exercise according to ability.
There are diverse exercises that suits everyone, some standing, sitting and even lying exercises.
My biggest benefit is that the exercise has relieved my stress and tension.
There has been total health: emotional, physical and mental wellbeing
The exercises have enabled me to drink more water as we normally take break to drink water and by sweating my body demands more water.
The exercises have restored my health-alleviated my body pains
Since I started the exercises, I have changed my lifestyle because I find myself doing exercises daily for 10-15 minutes has helped me so much even to eat because I feel hungry.
Physically my body feels stronger.
My lower back feels much better than before.
It relaxes and refreshes my brain for the next two, three days.
Feels good connecting with others even if is only virtual
I feel good extending the invitation link to my friend who finds it hugely helpful.
I like the celebration part of the session which the one time a laugh from my belly. This I think increases my lung capacity. As led by the facilitator.
The exercises have improved my blood circulation.
These sessions feel like family
These sessions makes me feel happy, better and refreshed all day
A MESSAGE FROM THE INSTRUCTOR
A daily programme of at least thirty minutes of exercise will yield maximum benefits.  Do it regularly and enjoy it and ACHIEVE YOUR WELLBEING.
FINAL MESSAGE:
Exercise is the wisest INVESTMENT you can ever make for yourself.  Set a time for your exercise and stick to it and ENHANCE YOUR WELLBEING.
Utulivu Women's Group is ever grateful to Get Berkshire Active for the grant that went along way.  It has provided an opportunity for women to be active and to achieve their wellbeing for life.